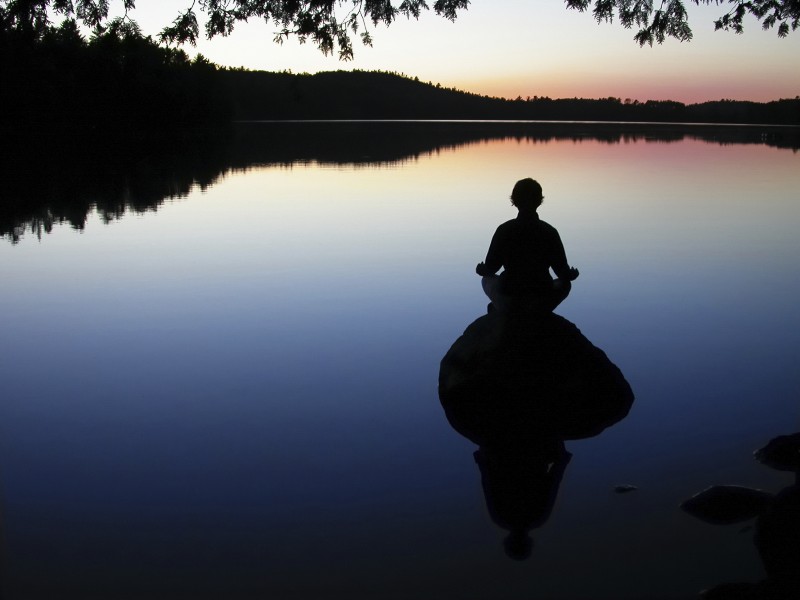 "This is an absolute necessity for anybody today. You must have a room, or a certain hour or so a day, where you don't know what was in the newspapers that morning, you don't know who your friends are, you don't know what you owe anybody, you don't know what anybody owes to you. This is a place where you can simply experience and bring forth what you are and what you might be, this is the place of creative incubation. At first you may find that nothing happens there. But if you have a sacred place and use it, something eventually will happen." -Joseph Campbell
Tomorrow will be my 36th day of hour long Kirtan meditation. I am in the midst of a forty day immersion of it where myself and a handful of others meditate together every day at 630 am at a yoga studio.
It's been the most extraordinary experience.  I have meditated on and off for a little over four years now and I've tried many styles. While I've done Kirtan (chanting) a few times it's never been quite like this.  Keep in mind, I am no fan of waking up at 5:30 am each day which I need to to make it on time, so I am quite surprised that I've not been tempted to roll over even once and hit the snooze button.
One of the struggles of anyone who mediates can relate to is how challenging it is to hush the monkey mind. Perhaps its the Sanskrit or the music from the harmonium or the other voices, but my monkey mind has been extraordinarily quiet throughout this experience. So quiet in fact, that I have experienced that rare state one always hopes to find in meditation, that of bliss, oneness, and yes, transcendence. I am experiencing in almost every practice. I'm happy to say that while it's not the first time I've experienced this, it is the first time where it's been consistent. I've even had some sessions where tears of joy roll down my face. It feels like a wound within is healing. I feel humbled and fed.
Do you have a room, or an hour that you give to yourself? How do you reconnect to yourself, to your Source? Where do you go to press your reset button? Some find it in running or another kind of sport. Some find it by sitting in nature. Some find it in yoga or writing. Others find it in a temple, mosque or church. Some find it in a comfortable pink chair.  The key is to create a space that is yours and yours alone, and allow yourself to experience it each day.
If you don't have this, then begin. Start where you can and start where you are.  Don't make yourself wrong for not having done it sooner.  Just begin today even if it's five minutes, in your car alone or on a park bench.  Keep it up for at least 21 days, as when we do anything for 21 days we carve a new neural pathway and set up a new habit.  That doesn't mean you won't need discipline, but carving that pathway sure helps us stick to it.  If it's possible do this with others -at least when you begin. I've always found meditation in the beginning of one's practice goes deeper and comes easier when done with others.
Here are three schools of meditation that are New York based, that I highly recommend:  Nancy O'Hara's Samu Zen Mediation Training , The Art of Living Course, and Vital Switch.
Now more than ever with technology moving at the speed of light, and our days being so full of noise, it's important to stop and be quiet. Your soul has so much wisdom and knowing, isn't it time you listen to yours?
"I salute the light within your eyes where the whole universe dwells. For when you are at that center within you and I am at that place within me, we shall be one." - Chief Crazy Horse, Oglala Sioux, 1877